CREATING MAGIC IN CONVEYING YOUR BRAND'S MESSAGE TO YOUR TARGET AUDIENCE
USE A PICTURE. IT'S WORTH A THOUSAND WORDS.
by Tess Flanders
Graphic design plays a vital role for all kinds of businesses in conveying their ideas/messages to their customers. Colorful and high-resolution graphics can help potential customers to know about your products or services, and help them see-literally-the benefits they offer. This is the reason why most businesses are looking for Best Graphic Design Service to communicate with their target audiences.
Engage Coders is a renowned agency for Graphic Design Services and helps businesses create unique experiences for their customers. Our team of creative designers is well-equipped with the knowledge of the latest design trends and practices. With years of industry experience in graphic design, we excel at delivering aesthetically pleasing designs that meet our clients' vision and enhance their brand value.
We are proud of our in-house designers as they always provide beautiful and engaging graphic design services That You'll fall in love with. Our team creates the magic in all the graphics to make them stand out From the rest.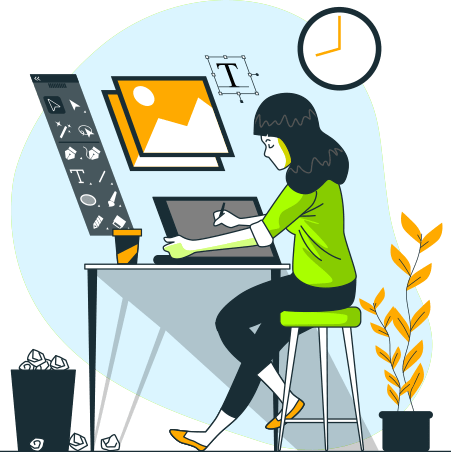 Here's  how we help a brand in presenting its story:
If you'd like to stand out from the crowd and be recognized worldwide, talk to us. We offer innovative graphic design services at very affordable prices for all our clients around the globe. So hurry up today!
Our Graphic Design Services
Our Technology Competency
With over 5 years of professional graphic design experience – our designer's team gives importance to everything whether it is style guides or assets library. Here is the list of tools we have expertise In:
Let's Get in Touch
LET'S TALK ABOUT YOUR
GRAPHIC DESIGN SERVICES NEEDS
Call us today, to speak with our web design expert
Why Choose Engage Coders for Graphic Design Services?
At
Engage Coders
, every graphic designer understands the importance of good design and also knows how to see things from their client's perspective. We are proud to share that this quality makes us the
best Graphic Design Company in India
 Few highlights of our services:
Some of Our Happy Customers

Today, I am very happy as I have completed my dream project with Engage Coders. I would highly recommend this company for your project. Engage Coders is very passionate about delivering high quality and creative work using innovative techniques and processes that make them unique from the rest. Each member of the team played an essential role and consistently met our expectations.

I have worked with many digital marketing companies before and none have come close to Engage Coder's expertise and customer service. I strongly recommend them for your business.

I am very happy with Engage Coders services. What I was promised in the first meeting was delivered. Good Luck.

I am very impressed with Engage Coders. I like the way they are working and unlike other SEO companies, I know exactly what work is being done. Keep it up.

I believe communication is the key to my success and everyone at Engage Coders knows that. They keep everything transparent which brings trust. The best part is that they know their work and each team member is very professional.
Frequently Asked Questions