Join Our Team For a Bright career
Apply Now – We are hiring!
Welcome to Engage Coders Private Limited
We are proud to say that our team is our greatest asset. Every member of our team contributes to our success and future growth as they take their roles as accountable person, not just salaried employees.We provide a positive, friendly and learning environment to our team. So, everyone has got a chance to work and learn through various projects. At Engage Coders, we believe in collective growth. We aim to nurture polish. and groom the right talent. We are Committed to the personal and professional Development of all our employees so they can give the best of themselves.
As a quote by Robin S. Sharma:
"As Investing in yourself  is the best investment you will ever make. It will not only improve your life, It will improve the lives of all those around you."
Therefore, we always invest in enhancing the potential of all our employees. Our specially designed internship programs enable you to achieve a high level of operational performance.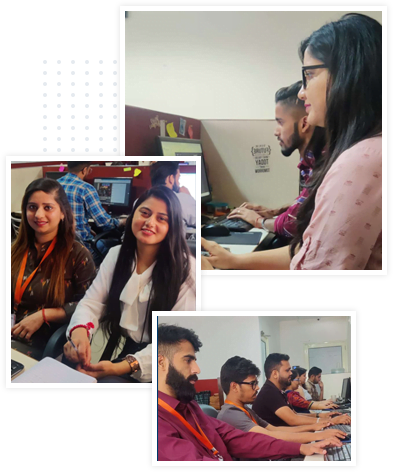 We are constantly looking for talented professionals who are ready to take on new challenges. enjoy taking responsibility and work as a team. We are here to welcome you to join our team.
Current Openings
Experience the Joy of Working Together
Our Values
Values are our business ethics that every team members follows.
Life at Engage Coders
Every team member loves working at Engage Coders. They are full of joy and enthusiasm throughout the day and feel lively at work place which is a big win for us. Find out some of the glimpses of moments of sharing quality time and celebrating events.
Meet Our People
Few Valuable words from Our Team
Engage Coders offers huge opportunities one can explore. Flexible environment and friendly management make the company a perfect place to work with. I am happy to be a part of it
It's been 2 years; I am associated with the organization as a SEO professional. I recommend working here if you want to grow your skills. Wonderful and friendly work culture. Salary gets credited on time even in this "Covid" situation and there are no Lay-offs. Blessed to be here.
I joined Engage Coders as a fresher and learned lot from seniors. Good exposure for employees who are serious about learning. Here salary is never late and great environment for employees. A place where you can learn, grow and succeed to great heights. Highly recommended!
I am working here as PHP Developer for the last 3 years. One of the best places I have ever worked with. They are very supportive to make you learn new things. Very cooperative staff and management. We never miss a chance to do party. It's a place to work with fun.
Excellent place to start your career, lots of learning, everyone is very supportive, especially the management that always listen to employees problem and solve it asap. Great place to work, friendly environment, and overall EXCELLENT experience…
Engage Coders is a great place to work with. No work pressure and a great environment with supportive team members. They always appreciate your values and work. Highly recommend.
Good working environment and management is very supportive. Flexibility in terms of work-life balance makes Engage Coders a better workplace for all. Cheers.